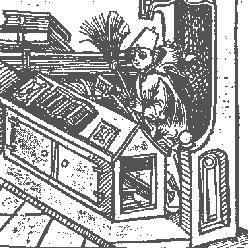 The Department of Early Hungarian Literature of the University of Szeged launched a research project about twenty years ago, with the aim to study the reading public and the reading habits in the Carpathian basin in the sixteenth and seventeenth centuries. The researches are still in progress.
The participants in the project have been the academic staff and students of the Department of Early Hungarian Literature, and the research staff of the department of early printed books at the University Library. During the earlier stages of the project this team of research scholars collected from the archives scattered around the territory of pre-1920 Hungary and from a great number of scholarly and source publications issued during the past two centuries the basic research material, referred to as the "book data", which is actually a mass of information about books, owners of books, book collections and readers, extracted from. various kinds of manuscript and published sources., where they had been hidden, in some cases for centuries.
The main objective of the participants in the project has been to collect systematically all kinds of documents (library catalogues, last wills and testaments, inventories of estate, letters, entries and jottings from diaries, business papers etc.) listing or mentioning books, containing data about at least 5 volumes. Besides collecting the source material, compiling bibliographies from the data found in the documents collected, and publishing the texts of the sources, the members of the research team recorded the information extracted from the sources in a database system and, as an important and useful by-product of their work, they published several studies and research papers, too,.